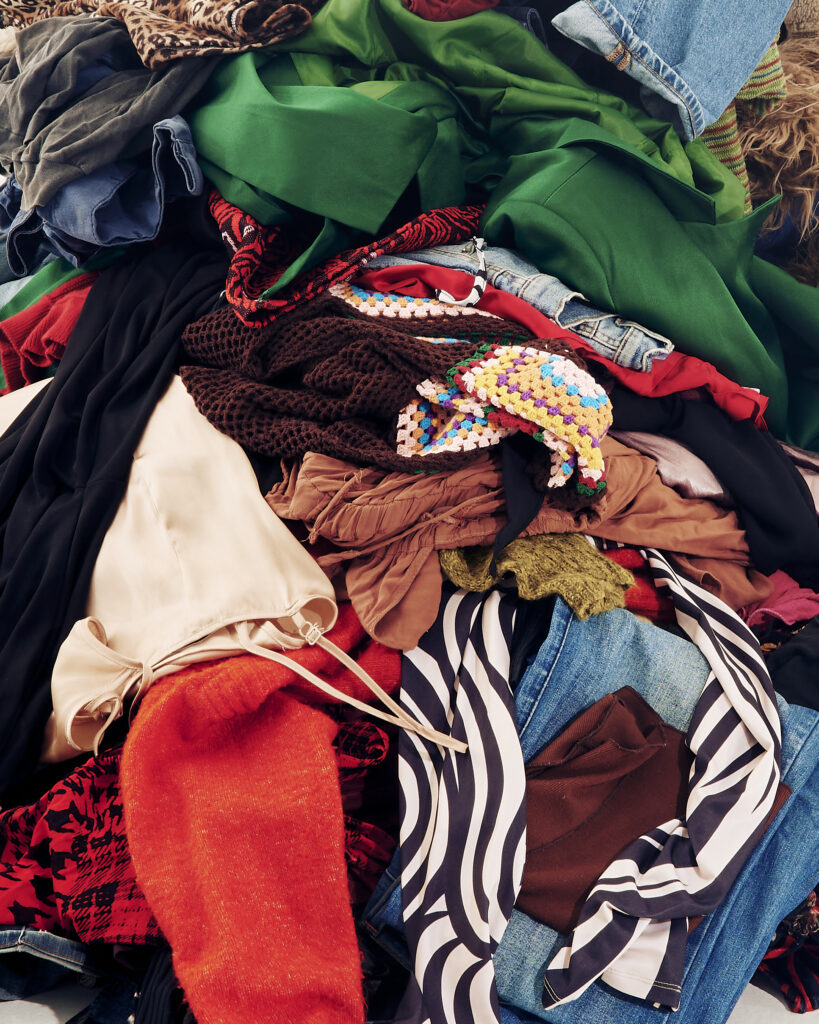 Every 10 minutes, Australians throw away 15 tonnes of fashion waste on the planet. This amounts to 800,000 tons per individual a year. With the increase in buying and producing fashion products, about 148 million tonnes of fashion waste is expected by 2030. This is fuelled by a relentless pursuit of up-to-datedness but is being leveraged and exacerbated by a shortening lifetime-quality window. A targeted version of planned obsolescence that leans equally into a heavily consumerist culture and actual material breakdown of cheaply produced materials, at the cost of cheap and heavily exploited labour, generally from the Global South (the same place where the social costs for this cheap labour is dumped). This supply side ramping of the fashion industry also generates harmful and immoral demand side impetus on producers as they scour the globe for cheaper and more exploitable labour to match the faster and faster oscillations of the fashion market.
It is important to remember that these industries respond to demand. Although many of these companies respond to shareholders and boards, these shareholders are ultimately driven by profit chasing; by reducing the demand for these products and the de-integration of consumerism from our daily life, we may ultimately be able to force shareholders to hold these companies more accountable. Whilst it is not our fault consumerism was allowed to take over the world, it is ultimately our job to undo its disastrous effects on the global climate. To combat the current problems with the fashion industry, we need to change our mindset and be open to being creative and open-minded about consumer choices.
Up-cycling is a fun and creative way to reconsider our choices as active consumers of fast fashion. As a crucial part of the de-growth movement, the attempt to shrink and bring into existence economies that are not only self-sustaining, but regenerative, up- cycling provides a holistic approach to the issue of rampant consumerism; a cure of the environment and a cure to consumerism.
When up-cycling, it is important to remember that we can make it engaging and lean on the inherent creativeness in the process of sourcing and re-purposing items. In her book, 'Donut Economics', Kate Raworth points out that de-growth, circular economies and the regeneration of the key mechanisms that make health societies function are not individual goals that we must pursue separately but actually, must all be addressed together (and in-fact, are more effectively addressed when bundled in this way). To Raworth, and most other de-growth proponents, the destruction of the environment, consumerism, globalism, and destructive capitalism are not just linked, they are functionally the same thing. Up-cycling is part of a larger movement designed to provide a holistic approach to dealing with the issue of rampant consumerism; a cure of the environment, a cure to consumerism, a cure for convoluted supply lines that stretch the globe and finally, a regenerative capitalism with community and creativity at its core. Decades of rampant consumerism and capitalism have eroded and destroyed the sense of creative wonder that is critical for health human experience, up cycling and de-growth, on top of their ecological benefits, attempt to undo this, creating patterns of living that are regenerative to the human spirit of expression and empowerment, sources of societal change that are generally overlooked. Up-cycling often allows us to connect to our communities in ways that have been washed away by the effect of globalization and the increasing mystification of supply chains. Speaking to local thrift shop owners about how garments and items end up in the shop and their experiences with community-based thrifting can allow previously unseeable insights into the supply economy. This can allow us to generate new feelings of responsibility to one another by recognising that all items, not just clothes, must come from somewhere and have additional costs for processing, moving and many other functions of globalism that aren't immediately recognisable.
---
REFERENCES
https://www.weforum.org/agenda/2022/06/what-is-degrowth-economics-climate-change/#:~:text=What%20is%20degrowth%3F,planet%20by%20becoming%20more%20sustainable.
https://engage.vic.gov.au/circulareconomy
https://www.dwijproducts.com/post/globalization-and-consumerism#:~:text=Globalization%20and%20consumerism%20are%20perhaps,for%20purchase%20by%20the%20consumer.
https://globalsouthstudies.as.virginia.edu/what-is-global-south
https://www.goodhousekeeping.com/home/craft-ideas/how-to/g139/genius-upcycling-ideas/
https://www.thegoodtrade.com/features/what-is-fast-fashion/#:~:text=Fast%20fashion%20is%20a%20design,styles%20to%20the%20end%20consumer.